August 9-15 SYSTEM CHANGE CAMP in Hamburg,
.
After 2 years of pandemic and isolation we take the space for exchange, networking and common actions. Therefore we organize a big camp in Hamburg.
We are different groups with different topics. We are united by the unshakeable knowledge that the Good Life only exists for everyone or not at all. And together we have 100 billion better ideas. We will think our struggles together. So together we can fight our battles.
Together we will organize a big camp and together we will oppose exploitative capitalism.
Who shut shit down?
We shut shit down!
The camp will be registered as an assembly and is therefore a place protected by the right of assembly. This means that you can stay here legally and have the right to participate in the assembly at any time without being asked for your identity by the police. Experience has shown that the authorities do not always respect this right – especially then it is important to be well informed about your rights in order to be able to claim them.
We will camp near the Volkspark Altona north of the Altona cemetery on Elly-See-Straße.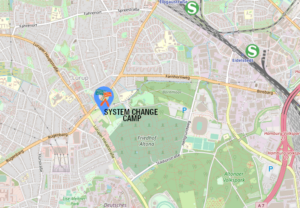 Address:
Elly-See-Straße, 22547 Hamburg
Coordinates: 53.5884, 9.87927
On the subpages you will find information about the program, how to join in, arrival and the hygiene concept.
You want to get involved in the preparation, construction and/or organization of the camp? Write to camp@ende-gelaende.org
You want to be part of the camp as a group?
Write to: vernetzung22@ende-gelaende.org
You would like to participate in the camp program?
Write to: programm22@ende-gelaende.org
Did you lose something important at the System Change Camp? Then please contact us at lostandfound2022@ende-gelaende.org